Exhibition
The Negotiating Table
CyDRe, La table des négociations, 2019 © Samuel Gay
Generally considered as the art of agreeing with others, negotiation also means reconciling conflicting interests. It creates tension between the desire for cooperation and power relationships, thus demonstrating the complex mechanisms that determine any collective decision-making process and expression. A universal practice, negotiation is often publicised in our societies in the form of the table, a canonical object and icon whose very shape is supposed to make exchanges and discussions efficient, and which is illustrated by the history of the major political, commercial and union negotiations, etc. A deliberately limited and exclusive space, the negotiating table gives us indirect insight into the absence of those who are not invited to defend their interests; away from the negotiating table, they continue forging the tools and design the strategies to make their voices heard.


When the « we » are opposed instead of building agreement, when the construction of common grounds is in conflict, can the theatrical illusion governing the agreement staging situation rather than its development fool people? Can this sham be considered to be the only negotiation model?

Through a series of objects and on the occasion of the animations held at the central table, the La Table des négociations exhibition shows original designers', artists' and nameless people's viewpoints. The curators wished to present the forms derived from negotiations and those influencing them, without neglecting the counter-forms the decision-making process limitations compel to seek.
En lien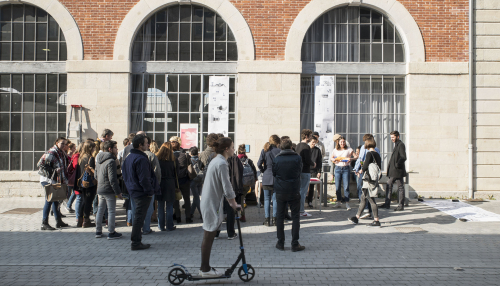 Saint-Étienne Higher School of Art and Design at the heart of the Biennale
A large number of presentations by students from the École Supérieure d'Art et de Design de Saint-Étienne (ESADSE) are...
Curator
CyDRe – Cycle Design et Recherche de l'ESADSE
Scenography
CyDRe – Cycle Design et Recherche de l'ESADSE
Site
Cité du design – Manufacture3 rue Javelin Pagnon
42000 Saint-Étienne
Date
From Mar 21 to Apr 22

Back